LET'S ALL COME TOGETHER AS A COMMUNITY TO SUPPORT THE NEW JUDGE ON AMERICAN IDOL (PREMIERS TONIGHT BOUCHE) KARA DIOGUARDI. I WAS PISH-POSH ABOUT WHETHER I SHOULD BE ON BOARD WITH THIS OR NOT UNTIL I FOUND OUT THAT SHE'S RESPONSIBLE FOR SUCH HITS AS ASHLEE SIMPSON'S "PIECES OF ME," KELLY CLARKSON'S "WALK AWAY," AND ONE OF MY RECENT FAVORITES (ESPECIALLY THE NEW REMIX IN HEAVY ROTATION ON SAN FRANCISCO'S NRG-92.7!!!) PINK'S "SOBER." SO LIKE I'M INTO IT. SHE ALSO CO-WROTE WITH PAULA ABDUL THAT KYLIE MINOGUE SONG THAT'S LIKE "SPIN IT AROUND AND SOMETHING AGAIN..." THAT ONE. THEY LIVED TOGETHER TO WRITE IT AND TALK ABOUT HOW THEY WERE BOTH THE PERFECT "ROOMMATES."
OK. SO...
TOOL ACADEMY. THIS SHOW. IS SHOWS. LIKE I ALREADY HATE MEN, YOU KNOW? THIS IS JUST FUEL TO THE FIRE FOR ME. MY DUDE LIKE PASSED OUT DURING IT AND I FOUND MYSELF GIVING HIM DIRTY LOOKS AND GETTING PISSED OFF AT HIM CUZ OF THIS SHOW! IT'S REALLY INTENSE AND KIND OF WEIRD AND CATHARTIC. CROSSING MY FINGERS FOR A CIRCLE JERK.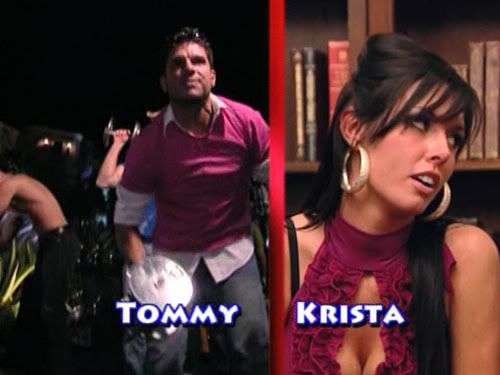 TOMMY AND KRISTA ARE PROBABLY MY FAVES. SHE HAS THAT CERTAIN FRAN DRESCHER JE-NE-SAIS-QUOI THAT REALLY SPEAKS TO ME. DURING THE CHALLENGE WHERE THE MEN HAD TO READ TO THE WOMEN FROM AN INSTRUCTION BOOK HOW TO ASSEMBLE A BED-FRAME BUT COULDN'T HELP THE WOMEN ACTUALLY ASSEMBLE IT, TOMMY REFUSED TO READ THE INSTRUCTIONS AND INSTEAD JUST LIKE THREW AN ARM-CHAIR ACROSS THE LAWN IN FRUSTRATION. SO HOT! AND I LOVE THE EXCESS OF EVEN HAVING AN ARM-CHAIR ON THE LAWN ANYWAY. I THINK I WATCH TOO MUCH TEEVEE.
XOXO