JUST FOUND THIS TOTALLY SEXY PIC ON SOME RANDOID TWINK WEBSITE: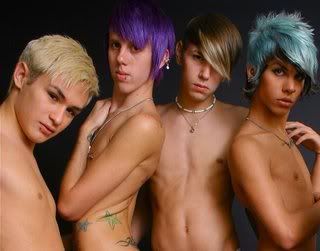 LIKE, WHAT DO U THINK IT IS? I SUBMIT 2 SCENARIOS:
1. IT'S A BAND CALLED L'OREAL'S MUSE. THEY SOUND LIKE A CROSS BETWEEN A SIMPLE PLAN AND NEW CYNDI LAUPER. THEY DO A STRANGELY DANCEABLE COVER OF "HEY THERE, DELILAH."
2. IT'S THE CAST OF A TWINK PORN VID CALLED
BANGIN' BOIS: BOIS WITH BANGS BANG OTHER BANGED BOIS
. PROOF ON FILE.
WELL...? WHAT'S YOUR BRIGHT IDEA THEN, MISTER??