AMERICAN IDOL
IS REALLY OUT-DOING ITSELF THIS YEAR!
MY 2 FAVES SO FAR ARE, OF COURSE:
KRIS ALLEN! HE'S THE CUTE MARRIED ONE. I BET HIS DICK'S PRETTY WHATEVS, BUT HE'D HAVE JUST ENOUGH HAIR ON HIS BUTT TO MAKE ME LOSE MY MIND AND FORGET ABOUT THE FRONT ALTOGETHER. I DON'T REALLY REMEMBER IF HE'S A GOOD SINGER OR WHAT, BUT THAT JAWLINE AND THAT CURLED LIP GET MY VOTE.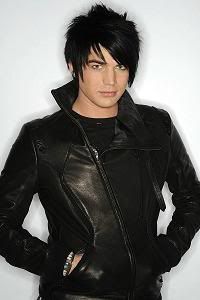 ADAM LAMBERT! HE'S THE GAY ONE WHO MY MOM TELLS ME LOOKS LIKE ALL MY FRIENDS (BUUURN!) I'M NOT REALLY INTO THE IDEA OF FUCKING HIM (27YO WITH BIG PORES AND TOO MUCH JEWELRY? HITTIN' A LITTLE TOO CLOSE TO HOME), BUT I GO NUTS EVERY TIME HE SINGS!
LIKE, WHO ELSE EVEN IS THERE?? I GUESS ANOOP'S PRETTY OKAY, I THINK I'M JUST KIND OF OVER THAT PART OF THE WORLD FOR NOW (C'MON THEY HAD THEIR MINUTE AT THE OSCARS.) BLINDY'S GREAT FOR COMIC RELIEF, BUT BOOOORING. I MEAN, IF I WANTED TO WATCH GENE WILDER SING, I'D PUT ON
WILLY WONKA
. DANNY GOKI'S A TOTAL GROSSOUT, HE LOOKS LIKE HE SHAVES HIS PUBES AND HAS A SKINNY PINK WEINER. I'M PRETTY INTO LIL ROUNDS STYLE, BUT SHE'S KIND OF A SNOOZE BEYOND THAT.
OH! BUT MY FAVE PART OF THE NEW SEASON IS THE FAREWELL SONG, "HOME SWEET HOME" BY CARRIE UNDERWOOD (AKA CAREBEAR UNDIES!) IT GIVES ME CHILLS! I JUST FOUND OUT IT'S A COVER OF AN OLD MOTLEY CRUE SONG, BUT I'M PRETTY SURE EVERYONE'S GOING TO FORGET ALL ABOUT THAT DRAMA WHEN THEY GIVE THIS,
THE
DEFINITIVE VERSION, A LISTEN: