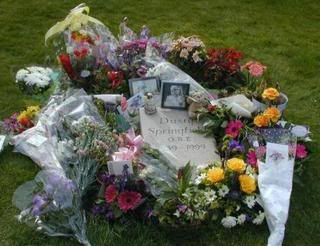 SITTING OVER HERE, RACKING MY BRAINS AS TO WHY IT'S GOING TO TAKE WAL-GREENS SIX HOURS TO DEVELOP MY LATEST FREE-FILM-FOR-LIFE ROLL INSTEAD OF THE ONE HOUR USUALLY PROMISED, WHEN... DUH! I REALIZE THEY PROLLY ALL BACKED UP DEVELOPING FILM FROM THE HOLIDAY YESTERDAY, AKA THE TENTH ANNIVERSARY OF DUSTY SPRINGFIELD'S DEATH.
LET'S TALK FAVE DUSTY MOMENTS?
DUH:
MAJOR DUH:
BUT WHAT ABOUT:
AND DID U EVEN KNOW:
OH! AND ON A COMPLETELY UNRELATED NOTE (WELL, RELATED IN THE SENSE THAT IT'S FAGGY)... I'M NOT SURE IF ANYONE BESIDES ME & ALEXIS IS AS INTERESTED IN THE MINUTIAE OF THE LIFE, LOVES, AND LISP OF RYAN "
UNSTOPPABLE
" PASQUALETTO, BUT TAKE A LOOK AT THIS LIL' NUMBER, WILL YOU? IT'S A "CIRCUS" DANCE HE'S CHEREOGRAPHING FOR A HIGH SCHOOL DANCE TEAM. CAN I JUST SAY THAT I'M SO, LIKE, "WORK, YOU BITCH!" THAT I'M EVEN ABLE TO KEEP WATCHING AFTER I'VE FINISHED JACKING OFF (AND YES, I CAN JERK ONE IN UNDER 2 MINUTES AND 5 SECONDS, AND STILL HAVE TIME TO WONDER ABOUT THINGS LIKE "WHY THAT BITCH IN THE BACK ONLY GOT ONE SOCK ON?)
THE BOOTY WIGGLE AT 1:16... HEAVEN.