SUNDAY: U
BITCH
, U.
ALL I HAVE TO SAY TO U IS IF GOD HAD WANTED THERE TO BE A DAY OF REST, SHE WOULDN'T HAVE CREATED POPPERS, 5-HOUR ENERGY DRINKS, AND GENEROUS DEALERS WITH SOFT LIPS AND A PENCHANT FOR FONDLING MY TWINK FRIENDS. U KNOW?
SO, LIKE, WHAT ELSE TO DO TODAY TO CURE THIS ETERNAL HANGOVER I CALL
LIFE
THAN GO TO
MISSIE'S
. FREE CHILI AND TEA SANDWICHES (FOR THE GENTLEMEN
AND
THE LADIES, DUH), PLENTY OF OUTLETS TO CHARGE MY CELLY FOR FREE (SHUT UP, A BITCH IS BROKE), DADDY BARTENDER WORKING (AKA SPITTING ON HIS FINGER AND STIRRING MY DRINK WITH IT, AAKA A MAN AFTER MY OWN HEART)... IT PRETTY MUCH IS LIKE GOING TO CHURCH, BUT WITH BIGGER HATS.
PLUS, LIKE... WHO ELSE U GONNA FIND WHO'S AS QUOTABLE (AND PHOTOGENIC!) AS A COUPLA OLD DRUNK QUEENS IN THE MIDDLE OF THE AFTERNOON?
TO WIT:
"HAVEN'T SEEN U FOR A WHILE...."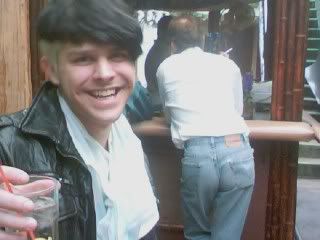 (MUMBLE, MUMBLE)
"OKAY, THEN! I SEE WE'RE GETTING RIGHT TO THE DEEP FINGER ACTION."