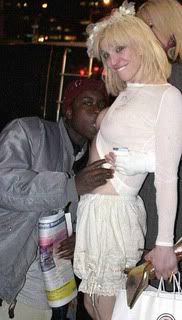 THE MORE I READ IT, THE MORE CONVINCED I AM THAT
COURTNEY LOVE'S TWITTER
IS HER NEW MAJOR ARTISTIC PROJECT, U KNOW? LIKE, WOULDN'T IT BE GREAT IF, INSTEAD OF A TRADITIONAL MEMOIR, SHE WAS SECRETLY PLANNING ON PUBLISHING ALL OF HER TWEETS IN A HUGE BOOK AND CALLING IT
AMERICA'S TWEETHEART
??
TO WIT:
-i haPPEN TO TRULY RESPECT A CERTAIN ATTORNEY GENERAL AND WIERDLY IT ISNT GERALD BROWN, AND IT SURE AS FUCK ISNT BOXER SHES OWNED, SOLD OUT
11:53 AM Apr 16th
-my "House" looks like a Storgae Center Mall Open Casting Antiques roadshow of every rockstar who ever trashed a room ever at one time
5:26 AM Apr 21st
-with my abs and the pert thing in back, not being arrigant just came outta bed to express my heart burtsing with love for rusty
9:07 AM Apr 7th
-there is NO such thing as LUCK. Fix this one flaw in our universe.
10:19 PM Mar 31st
KEEP UP THE GOOD WORK, U CRAZY BITCH.